With summer just around the corner, a lot of people are thinking about home extensions.
Maybe you've always dreamed of an elevated deck, overlooking your beautiful garden or simply want to be able to host more… but you put it off because it's 'too expensive' and you don't have the time.
Well, it doesn't have to be. Not if you know the materials that will slash the costs (and brush up on your project management skills). We've got a DIY Guide for renovating your home, so make sure you go through this first.
Talk to your builder about these budget (and environment) friendly materials:
1. Stone Cladding
While stunning, stone can be expensive. Mirror this look for less by choosing stone cladding. It's lighter and easier to install, so labour costs will be reduced. The cost of the material is less, too. Stone cladding is a flexible material.
 2. Reclaimed Timber
Talk to your local timber supplier and see if they have reclaimed materials. If you love the stressed or rustic look, reclaimed timber emulates this. With each piece being a different shape or size, it makes for an interesting finish.
3. Bamboo
Bamboo is becoming popular in Australian homes. It's sustainable, durable and easy to source. Considering hardwood floors? Bamboo is a great, alternative material choice.
4. Raw Concrete
It's no secret that concrete is one of the most affordable building materials. It's water and fireproof, has acoustic strengths and can withstand a lot (even unrelenting kids), has acoustic strengths. Concrete is low-maintenance and gives a unique look when left in its natural form.
5. Brick
Who doesn't love an exposed brick look? This is a material that's been popular in home renovations for years. Bricks are fire-resistant and help keep interiors quiet. Terracotta or traditional red bricks are the most affordable of all types. Just make sure you choose your tradespeople carefully because poor installation can lead to structural damage.
There are plenty of other cheaper materials too, such as concrete sheets, corrugated metal, industrial steel and iron and eco-bricks (which are actually made of plastic).
Before you settle on the type of materials, do your research. Find out about local suppliers, how well the materials perform in your area, and if there's any council regulations.
Don't forget to download our DIY Guide to help you project manage the renovation.
Happy hosting!
Give us a call today to learn more about our services!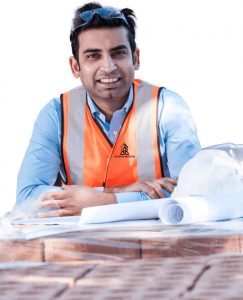 Naveesh Sharma MIEAust
Bachelor of Civil Engineer & Master of Engineering Science (Geotechnical Engineering and Engineering Geology)
2A/ 2 Portrush Road, Payneham, SA 5070
M: 0405 950 053 T: 08 7225 6514