Are you planning a home extension? Maybe that deck you've always wanted or an extra room for your soon-to-be-born bubs. Whatever the renovation project is, we cannot stress enough: do your homework when choosing a consultant.
Doing the groundwork now, before any plans are made, can save you money down the track – extra budget that can go into other projects in your home.
So, how can you do this, when you haven't completed a renovation project before?
Start with some basic research on all the available options. Decide on what you'd like to build, if you're tossing up between a few ideas. Explore the different materials that will need to be sourced, so you can begin to get a clearer idea of your budget.
Knowing the cost of the materials, products and labour early on is essential, especially if you've got a tight budget.
Once you've spent time learning about the different components of your project, build your understanding of how construction projects work. This knowledge will give you more confidence when communicating with different consultants.
Speaking of consultants, when you're determining which one you want to work with (as well as the one you choose), do this with your partner or a family member. With a process that's as complex, costly and emotionally-charged as a house renovation, it's best doing this as a team.
There's plenty of information available to put you in an empowering position, even if this is the first time you're investing in a home extension or renovation.
Talk to your local council and check their website, so you're aware of the specific building requirements your council have in place (and demand from you).
Coming from a prepared and educated starting point helps you save money on the consultant's fee, revisions to plan drawings and associated costs from changing their design. The more clarity you having going in, the quicker (and cheaper) the process will be.
Review the different companies and get to know their strengths, work style, and capacity. Then, choose who to get quotes from. Make sure you allocate the time to source quotes from various builders.
Make sure the quotes are itemised, so there's no queries about the price of each element.
While you're going through this pre-renovation process, feel free to reach out to our team. Solution for Construction has a service that helps homeowners save money on their extension projects, as well as ensuring safety.
We can help you with organising the architect, planning and design, council approvals and sourcing those all-important builder quotes. It's not just about finding the best builder. But, taking it further and matching a great builder who's experienced in your type of renovation.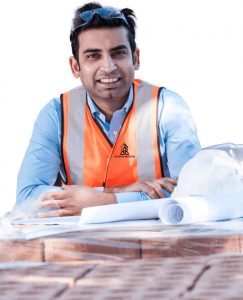 Naveesh Sharma MIEAust
Bachelor of Civil Engineer & Master of Engineering Science (Geotechnical Engineering and Engineering Geology)
2A/ 2 Portrush Road, Payneham, SA 5070
M: 0405 950 053 T: 08 7225 6514