A lot of money is wasted on construction sites due to poor quality management plans, sub-standard weekly and monthly construction programs, and site crews not being assigned specific daily targets.
Improve Construction Productivity
When planning any construction project it is critical to assess site conditions, project requirements and circumstances that could blow out construction costs, and to understand what the agreed project budget is with each client. Ensuring construction work is well planned before commencing any works, risks and variations are identified, and a risk management plan is created ensures the cost of a project does not exceed the agreed budget and is completed by the deadline. So, You must need to Improve Construction Productivity on the production site.
How are these things related to improving the productivity of a construction site?
Without your site crew having an assigned target for the day:
– You could have more work crew members on site than the job requires
– You could have too many crew members doing the same job
– You could be paying for unused hire equipment on-site
Without a quality management plan:
– There could be mistakes while planning a construction project to Improve Construction Productivity
– If the project doesn't go well you may not have covered enough in the budget for repairs
– You could be spending more than quoted for a project
Our highly qualified team at Solution for Construction can assist with site productivity and as a result, save you money for equipment upgrades, pay off debts, and help you take on more construction projects.
With a Bachelor of Civil Engineering and a Master of Engineering Science (Geotechnical Engineering and Engineering Geology), Naveesh Sharma is your Solution for Construction. Arrange your site consultation via the contact form below.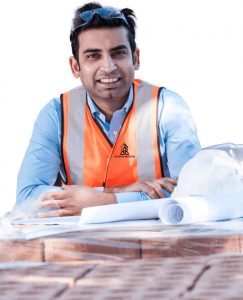 Naveesh Sharma  MIEAust
Bachelor of Civil Engineer & Master of Engineering Science (Geotechnical Engineering and Engineering Geology) 
2A/2 Portrush Road, Payneham, SA 5070
M: 0405 950 053