"Buildings are not made to be a risk. Make sure everyone's safety is taken care of"
Serious workplace injuries or death can change lives forever for everyone involved. Whether it's friends, family, the community or the business involved, such incidents can result in serious financial losses as well as the lifelong physical and mental impacts of a worksite injury for the person or persons involved.
As a business, it is your responsibility to ensure all employees and contractors on-site work in a way that is safe and minimizes risk.
A safety management plan mitigates the risks that come with a construction site and should be a top priority for you, your staff and contractors.
What does a Safety Management Plan entail?
• The Hierarchy of Controls involved in safety are:
– Elimination of the risk
– Substitution of the risk
– Engineering Control
– Administrative Control
– Personal Protective Equipment
• Common causes of workplace incidents:
– Overexertion
– Slip, trip and fall
– Poor housekeeping
– Shortcuts
– Distraction
• Risk Management relative to Safety:
– Hazard identification
– Identification of Risk
– Assessment of Risk
– Control of Risk
– Document the process
– Monitoring and reviewing
Importance of a Safety Management Plan
Safety is paramount in any situation. Our expert team at Solution for Construction take worksite safety very seriously and wants everyone to go home safe each day, with our thorough Safety Management Plan your business, staff, and contractors are taken care of.
Arrange your consultation with our expert team and fast track your council approval by giving us a call on 0405 950 053 or emailing us via the Contact Us page.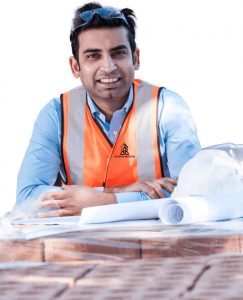 Bachelor of Civil Engineer & Master of Engineering Science (Geotechnical Engineering and Engineering Geology)
2A/2 Portrush Road, Payneham, SA 5070
M: 0405 950 053     T: 08 7225 6514